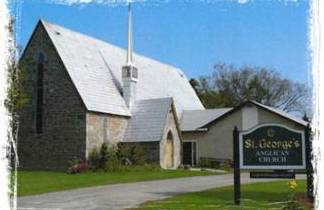 No one likes to see a church close. Our church buildings are sacred and signify to us the place where we most readily connect with God. They also hold our history: both our personal history, as well as the history of our community. However, the Boken report of 2007 showed us that churches can have a shelf life or an expiry date, that there are final generation churches. This is what has happened to St. George's Church, Fitzroy Harbour. The church was built in 1863, and will be deconsecrated on Sunday, September 18, 2022. The church and adjacent rectory are to be sold as one property.
It is hard to imagine that St. George's Church was built four years before Confederation. Canada, as a country, did not exist yet. We will not rehash the whole history of St. George's Church here. The parish website offers a concise history. We leave St. George's with many warm memories, and with the knowledge that many things were accomplished over the last 159 years. Over the last many years, we have been led by good and faithful clergy. The clergy however are only as effective as the people they lead, the parishioners who have sat in the pews of St. George's over the last century and a half. There are a great number who have contributed to make ministry happen. We could name some, but our list would do injustice to the many anonymous saints who have contributed over the years. God knows who they are, and that is enough.
The decision to close St. George's was a difficult one. It was done through a process of discernment. The motion was passed at this year's vestry as was approved by Diocesan Council and the Bishop. As people moved or passed on, and as resources became scarcer, it became increasingly more difficult to carry on the ministry of being a church here at St. George's Fitzroy Harbour. The remnant that was charged with the task of carrying on grew more tired with the passage of time. We made, by God's grace, our best attempts at carrying on, but it became clear that we could not. More than anything, we were tired. It was time for the work of St. George's to end for the ministry to take on an another shape.
Our faith and commitment to God as revealed to us in Jesus Christ remains ever strong. We believe that seeking to disestablish St. George's Church is in itself an act of faith. In going through this process and coming to this point where we are saying goodbye to our church, we are acting on faith that God is calling us to something else, something beyond our asking or imagination. Using one of the images from the letters of St. Paul, we have "run the race to the finish". But for us the end is a new beginning – we will find new church homes and continue to worship there.
We would like September 18th's service to be a celebration of all that we have accomplished over the last 159 years. We know that tears will be shed. And rightly so.
Respectfully submitted, The Rev. John Stopa B.A., M.A., B.Th., M.P.Th.